Russia and Ukraine conflict: impact on super
Key takeaways
Severe as they can feel, events like this aren't permanent. Markets eventually bounce back
Super is like any type of investment, there will be times of highs and lows so it's important to maintain a long-term perspective
By understanding your risk tolerance, you'll be better able to make decisions about the structure of your investment portfolio in a way that aligns to you personally.
You may be concerned about the impact of Russia's military action in Ukraine on your super.
Severe as they can feel, events like this aren't permanent. While they can have a sharp immediate impact on investment markets, based on history, markets eventually bounce back.
If you are considering reviewing or making changes to how your super's invested, based on these recent events, here are some things to consider.
1. Maintain a long-term perspective
Super is like any type of investment, there will be times of highs and lows. For the majority of Australians, super may be our longest-term investment given we start investing in super when we get our first job and don't access the money until retirement.
It's also the nature of investment markets to change rapidly, particularly shares, property or fixed income investments. The share market for example, is a public market so when the share market rises or falls, changes in share prices may impact the value of your super if it's invested in shares.
Markets recover with time
But from what we've seen in the past with events that disrupt investment markets, markets do eventually recover, it just takes time.
From the 1987 Stock Market Crash to the bursting of the Tech Bubble in 2000, each trigger is different and the time it takes to recover varies too — it can take months, weeks or even years. While disruptions to markets occur fairly regularly, they are impossible to accurately predict.
So, if you do decide to make changes to your investments during falling markets—like switching to a different type of portfolio—it's important to also consider what impact that will have on your returns when markets recover.
The value of $10,000 invested for 70 years
The dollar value 70 years later is shown at the end of the graph (at 31 December 2019) with the average annual return in brackets.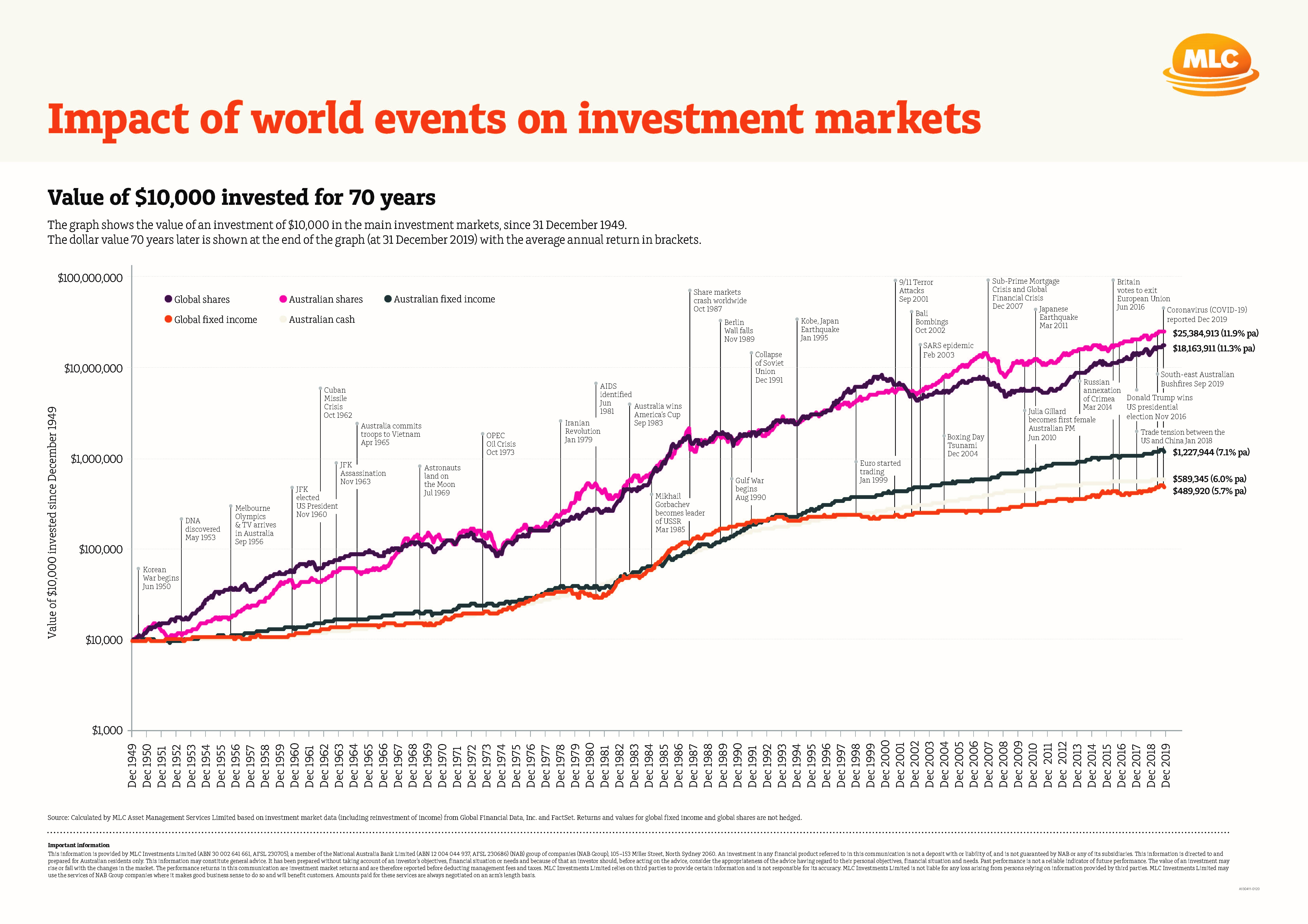 2. Review your investment strategy
While these events may make you want to take action, it's important to take a moment to consider your investment strategy including why you invested that way in the first place.
Understanding the investments that make up your strategy and how they are expected to perform over long periods of time, can help you think about your strategy objectively, instead of reactively. Particularly short-term market volatility which can influence your investment decisions.
If your strategy is intended to be a long-term plan, which may be the case for those with a long way to go before they retire, making decisions based on short-term market fluctuations may greatly affect whether you achieve your long-term goals.
If you're approaching or are in retirement, it's still important to stay focused on your investment strategy. Carefully consider all of your options, and their impact on your retirement goals, before making any significant changes. Speaking to a financial adviser may help with this.
3. Be aware of your risk tolerance
It's always important to consider how you feel about risk and market volatility.
By understanding your risk tolerance, you'll be better able to make decisions about the structure of your investment portfolio in a way that aligns to you personally. Risk tolerance depends on how you feel about taking risk and your ability to do so, such as whether you are financially able to bear the risk.
Asset classes like shares and property, have higher return potential and experience greater fluctuations in value, than cash or fixed income investments. How much exposure you choose to have in each of these asset classes, may change depending on your level of comfort, especially during periods of investment market instability.
4. Consider diversification
One of the most effective ways of reducing the impacts of investment fluctuations is to diversify. Multi-asset or diversified funds invest across multiple asset classes to assist in reducing volatility.
Diversification essentially follows the concept of not putting all your eggs in one basket by spreading your money across many asset classes, countries, industries, companies, and even investment managers.
When one area of your portfolio is weak and falling, another may be rising strongly. If you have money invested across many areas, changes in their values tend to balance each other out.
Diversification doesn't mean you can avoid negative returns altogether, but it helps reduce the size and frequency of fluctuations in your portfolio. Particularly compared to if you'd only invested in shares, for instance.
5. Seek support from a professional
If you value the experience of experts in other aspects of your life, don't discount it when it comes to managing your life savings.
A financial adviser is not just someone who helps with investments. Their job is to help you with every aspect of your financial life—savings, insurance, tax, debt—while keeping you on track to achieve your goals.
More importantly, they can answer questions like:
What age can I stop working and retire?
What strategies can I use to build my wealth?
How can I ensure my wealth is transferred to my
children?
If your to-do list is endless and you never quite have time to tackle your personal finances, a financial adviser may help to set you on the right track.
Important information and disclaimer
This article has been prepared by NULIS Nominees (Australia) Limited ABN 80 008 515 633 AFSL 236465 (NULIS) as trustee of the MLC Super Fund ABN 70 732 426 024. NULIS is part of the group of companies comprising Insignia Financial Ltd ABN 49 100 103 722 and its related bodies corporate ('Insignia Financial Group'). The information in this article is current as at March 2022 and may be subject to change. This information may constitute general advice. The information in this article is general in nature and does not take into account your personal objectives, financial situation or needs. You should consider obtaining independent advice before making any financial decisions based on this information. You should not rely on this article to determine your personal tax obligations. Please consult a registered tax agent for this purpose. Opinions constitute our judgement at the time of issue. The case study examples (if any) provided in this article have been included for illustrative purposes only and should not be relied upon for decision making. Subject to terms implied by law and which cannot be excluded, neither NULIS nor any member of the Insignia Financial Group accept responsibility for any loss or liability incurred by you in respect of any error, omission or misrepresentation in the information in this communication.
https://www.tdls.com.au/wp-content/uploads/2016/10/tls-logo-1.png
0
0
The Webmaster
https://www.tdls.com.au/wp-content/uploads/2016/10/tls-logo-1.png
The Webmaster
2022-04-12 02:09:00
2022-04-12 04:10:54
Russia and Ukraine conflict: impact on super